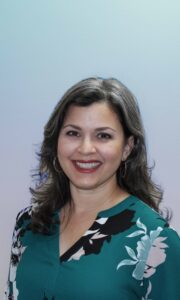 Danah Lee
In 2021, Danah Lee became our Director of Development after serving as the Events Manager for over ten years.  She will be working with both the Parish and St. Lawrence School on building relationships, fundraising, and community engagement.
Danah has been a member of St. Lawrence Parish all her life, graduated from St. Lawrence in 1988, attended Tampa Catholic High School and the University of South Florida.  Both of her children also graduated from St. Lawrence.  She feels extremely blessed that God has provided another opportunity to serve Him, St. Lawrence Parish, and the local community.
Her favorite part of her job is interacting with families, parishioners, and members of the community…cultivating relationships and helping them discover how St. Lawrence can make a difference in their lives.  What she loves most about St. Lawrence is the calming peace you feel when you walk the grounds and the feeling of community and history…how a sense of "familia" is always encouraged here.
Please feel free to contact Danah regarding community relations or how to financially support St. Lawrence Catholic Church and School.