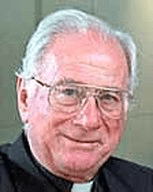 In 1958 a young priest, Father Laurence Higgins was assigned to the mission area of Tampa, Florida, to open a new parish. After offering Mass in a high school, Army Reserve Center and Civic Center for 200 families, Father Higgins began the drive to build a temporary church on the 20 acres at Hillsborough and Himes Avenues, which was then a cow pasture. The provisional church was completed and dedicated in 1961 along with the parish school, which also opened in 1961 with four classrooms and a total of 91 students.
Today, St. Lawrence School is a thriving, successful school with a state-of-the-art computer lab and an enrollment of approximately 500 students. The Early Childhood Building for pre-kindergarten students was opened in 1997. This building was originally the Christ Child Center, a home for orphaned children, and now, again, it is a home for our children. In 1998 the building was dedicated as the Polly Murray Early Childhood Center. Additional improvements in 1998 included a multi-purpose athletic field and track dedicated in memory of Joe and Mary Martinez, a covered indoor/outdoor gymnasium, and a tennis court.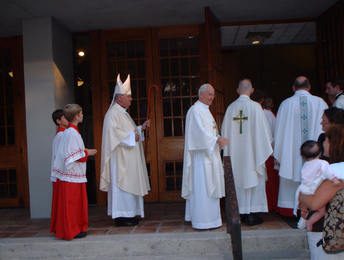 For 20 years, the Provisional Church, by necessity, was a multi-purpose building. Foremost, it was a Church, but when the Blessed Sacrament was removed it also served as a meeting and bingo hall, an auditorium, and a cafeteria for the school. With the help of the then 2100 families in the Parish, our permanent Church was dedicated on April 5, 1981.
In 1988 planning began for a much needed Parish Center to house a growing Seniors' Program, parish social events, wedding receptions, meeting facilities, and the expansion of the religious articles store. On June 21, 1992, building commenced for this center and in January 1994, it opened as Higgins Hall, dedicated to its founder, Monsignor Laurence Higgins
On July 1, 2007, Fr. Tom Morgan, an alumnus of St. Lawrence Catholic School and Tampa Catholic High School was appointed as the second pastor of St. Lawrence by Bishop Robert Lynch, D.D. Fr. Morgan was installed by Bishop Lynch as pastor on August 11, 2007.
On Saturday evening November 3, 2007, a fire began in the Church in the chapel. It is believed that a short in an electric votive candle stand may have started the fire. Although the fire damage was limited to the middle pillar where the votive candle stand was located, the smoke damage was extensive. Belfor, USA was contracted to restore the church. During the time of the restoration, Sunday Mass was celebrated in Higgins Hall and Celtic Hall (the old church). Daily Mass was celebrated in the St. Augustine Room of Higgins Hall and Confessions were heard in the Media Center. The restoration project took nearly five months to complete and was finished during the week of March 24, 2008. The first Mass celebrated after the completion of the restoration project was the funeral Mass for Froment J. Gonzalez, Jr., a long time parishioner of St. Lawrence. This Mass was celebrated by Monsignor Laurence Higgins on Saturday morning March 29, 2008. The Sunday Vigil Mass was celebrated later that same day with Confessions being heard before Mass.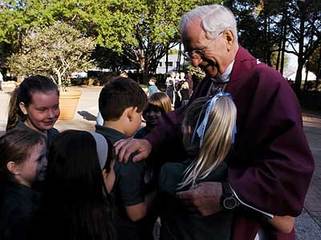 The parish celebrated its 50th Anniversary during the year of 2009. The celebration included a Mass at Hillsborough High School (the site of the first Mass), a school alumni reunion at our anniversary parish picnic, a founders and early parishioner luncheon, a Mass of remembrance of deceased parishioners, and an anniversary Mass that was celebrated by Fr. Robert Morris, Vicar General of the Diocese of St. Petersburg, presided over by Bishop Robert Lynch, and concelebrated by Monsignor Laurence Higgins, Fr. Tom Morgan, Fr Cripsin Keating, Monsignor Brendan Muldoon, Fr. George Malekial. Fr Jamie Diaz, Fr. Robert Schindler, Monsignor Diego Conessa, and Fr. Jose Gonzalez. The Mass was followed by a Banquet in Higgins Hall which included a slide show of the history of the parish, comments by Monsignor Higgins, and a presentation of thanks to the Sisters of St. Clare and to Polly Murray
On Sunday, January 2, 2011, at our 4:00 p.m. Spanish Mass a statue of "Our Lady of Charity" was enshrined in our chapel. The statue was donated by Jose Louis and was made more than 50 years ago. It was brought to Tampa from Miami in 1964 by Fr. Jose Gonzalez and has been kept at the home of Jose Louis since 1964. The statue of "Our Lady of Charity" has been used for the annual celebration of "Our Lady of Charity" and in other processions throughout the Tampa Bay area. The enshrinement Mass main celebrant was Fr. Dayan Machado. The Mass was concelebrated by Fr Jose Gonzalez, Fr. Ramon Hernandez, and our pastor, Fr. Thomas Morgan. Deacons Vazquez and Stout assisted at this Mass.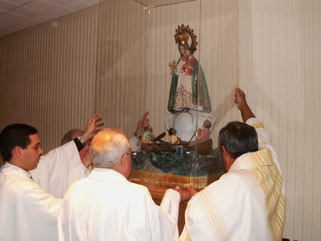 Polly Murray, the retired business administrator of St. Lawrence Catholic Church, passed away in the Lord on Sunday, April 29, 2012. In 1960, Polly went to work as the Lay Administrator of St. Lawrence Catholic Church and School. Polly oversaw all administrative responsibilities of the parish and the construction of the School, the permanent church, the Higgins Hall events center and the grounds of the parish. Polly faithfully served our parish from the early beginnings of St. Lawrence until her retirement in September of 2007.
In 2010, Fr. Tom Morgan expressed his desire to begin establishing a Sister-Parish-Relationship with a parish in Cuba. In those days Fr. Cirilo Castro, pastor of two parishes in Cuba, was visiting the Tampa Bay area. He was invited to St. Lawrence to talk about his ministry in Cuba and mentioned that he was involved in the project of building a church in the city of Sandino, in western Cuba.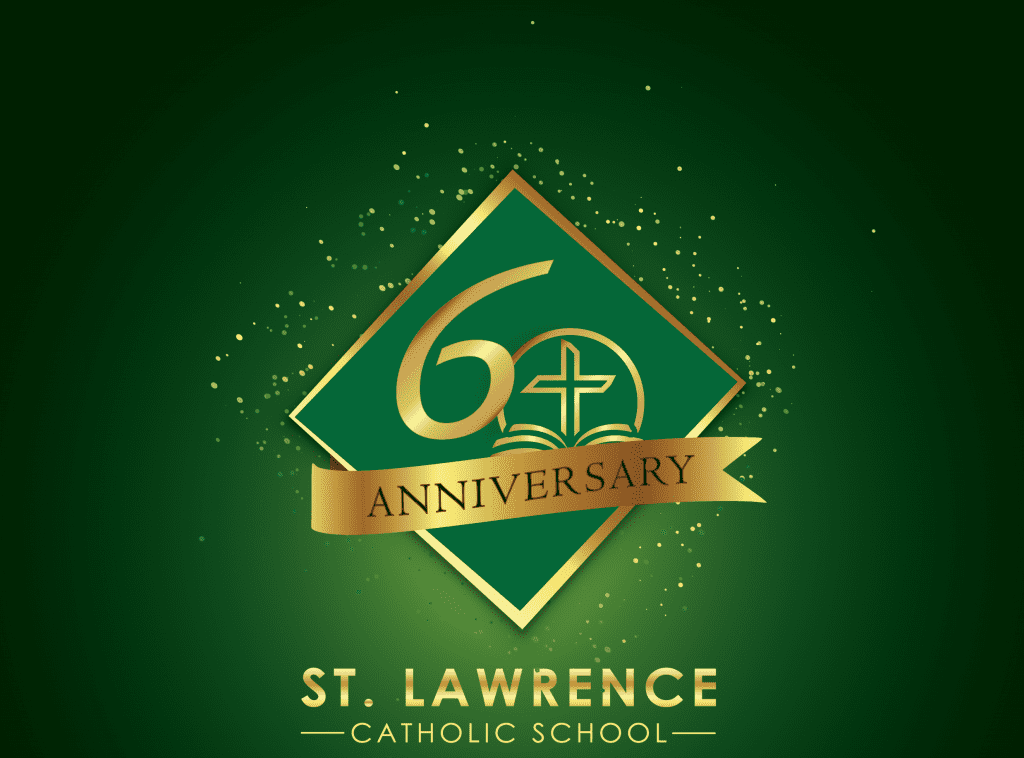 Fr. Cirilo came back to visit us in 2011. He was formally introduced to our community and spoke at all the Masses and we had a special collection for his community. St Lawrence was able to collect more than $9,000 for the building project and that money was deposited in the account of the Diocese of Pinar del Río, Cuba, where Fr. Cirilo works.
On June 1, 2012, Fr. Dayan Machado traveled to Sandino and the town of Las Martinas, Cuba to visit Fr. Cirilo Castro and the people he serves. There he had a meeting with the Bishop of the Diocese, Most Rev. Jorge Serpa, Fr. Cirilo and Fr. Ramón Hernández, a priest from our Diocese of St. Petersburg that is assisting us in the Sister Parish Project. In that meeting, Bishop Serpa was invited to visit St. Lawrence in the future.
In February 2013, Fr. Ramón Hernández went back to meet Bishop Serpa to discuss the reality of the twinning project between our community and theirs. They also discussed the permit granted by the Cuban government to allow the construction of the church in the Diocese. Fr. Hernández met with the Cuban authorities in Sandino and Havana City. All sides seemed supportive and enthused. There is already a list with the names of children and students from Fr. Cirilo's communities to facilitate some type of communication between the two parishes.
The Cuban government granted a house to the nuns that assist Fr. Cirilo with Sunday Catechesis and they are in the process of arranging it so they may also use the place for RCIA with new a TV, video and computers. It will also be the future Rectory where Fr. Cirilo will live once the new church is built.
We now have pictures of the location where the church will be constructed. We received a picture of Bishop Jorge Serpa. During his visit, he will bring a scheme and the architect's design of the new church building, and perhaps more information on the cost of the whole project.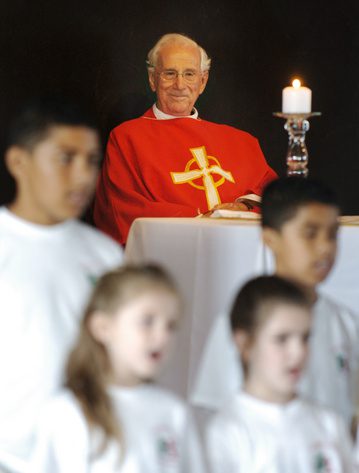 Bishop Jorge Enrique Serpa arrives on the evening of Thursday, April 11th, 2013. He will stay in St. Lawrence.
Friday, April 12th, Fr. Ramón Hernández will give him a tour of historic places in Tampa and Ybor in the morning. He will celebrate a Mass at 7:00 pm in Saint Paul Church, Tampa.
Saturday, April 13th, in the morning he will visit the recently restored Garden of Our Lady of Charity in Incarnation Church; and will be present at the 4:00 pm and 5:30 pm Masses in St. Lawrence. Fr. Dayan Machado may translate the Bishop's homily.
Sunday, April 13th, he will be present at the English Masses in St. Lawrence and will celebrate the 3:00 pm and 7:00 pm Spanish Masses.
Monday, April 15th, early in the morning Bishop Serpa will visit the site wherein 1528 the first Mass was celebrated. He will also have a meeting with Bishop Robert Lynch at 11:00 am. A 7:00 pm bilingual meeting will be held in St. Lawrence for those who would like to learn more about the Twinning Project.
Tuesday, April 16th, Bishop Serpa will visit Santa María Mission along with Msgr. Robert Morris and Fr. Ramón Hernández at 10:00 am. He will celebrate the 7:00 pm Spanish Mass in St. Lawrence. Wednesday, April 17th, 5:30 am Bishop Serpa's departure to Miami.
March 1, 2013, brought to our parish the restructuring of our outreach efforts to the needy, previously led through by our St. Vincent de Paul Society, reorganized into a new parish ministry named the Matthew 25 Outreach Ministry. The heart of this change was to respond to Jesus' words as a parish in Matthew 25:35-36 which states: ―For I was hungry and you gave me food, I was thirsty and you gave me drink, a stranger and you welcomed me, naked and you clothed me, ill and you cared for me, in prison and you visited me." The Matthew 25 Ministry will be led through the leadership of a board of directors, presided over by the pastor of St. Lawrence, and managed by the officers of Matthew 25 in cooperation with the membership and parishioners of the parish.
On Sunday, March 3, 2013, the Sandra Tini Outreach Center was dedicated at St. Lawrence. The Center will house the efforts of our Matthew 25 Outreach Ministry – formerly the St. Vincent de Paul Society. The dedication and blessing of the new building were led by our pastor Fr Tom Morgan and Deacon Cris Stout. The ribbon-cutting ceremony included the participation of Caesar Tini, husband of Sandra Tini, Monsignor Laurence Higgins, pastor emeritus of St. Lawrence, and John Allgeier, chairman of our Finance Council. Present for the dedication were members of the Tini family, Jonathan Moore, AIA, of InVision Advisors, who served as our project manager for this project, invited guests, and many parishioners. The dedication ceremony also included a children's choir from our school.
The Center is named after, Sandra Ann Tini, a native of Amersham, England and a long time resident of the Bay area, passed away on December 10, 2011. She is survived by her loving family: husband Caesar Tini, sons Paolo (Julie), Stefano (Denise), and Dino (Michelle) Tini, and grandchildren Marco, Alessandro, Massimo, Matteo, Nicole, Michael, and Bonnie. Sandra set an example to all those who knew her by living a love-filled life. Her outward beauty was only rivaled by the beauty of her heart. She was compassionate, loving, tender, patient, kind and attentive to her husband, her children, her grandchildren and all those blessed enough to cross her path. Her mere presence brought a sense of peacefulness and grace. She is loved for what she gave during her life and will be honored forever by the giving and healing that will take place in the Outreach Center named in her honor.
We are thankful for the efforts of Barb and Randy O'Brien in making our new Outreach Center a reality. They are the owners of Corporate and Endowment Solutions, Inc., established in 1996 and located in Springfield, Illinois. Barb and Randy contacted St. Lawrence in search of an appropriate way to memorialize Sandra Tini's life and provide a place for years to come that would have a positive impact on the community of which St. Lawrence Church and School are a part. After multiple conversations, it was agreed to support the ―Sandra Tini Outreach Center‖ undertaking on the grounds of our parish. Barb and Randy reached out to a number of friends in a variety of ways to underwrite the expense of the project, allowing many to share the joy in and of God's work.
Bishop Robert Lynch, the fourth bishop of the Diocese of St. Petersburg, led our parish Lenten mission March 4-6, 2013. Bishop Lynch's theme for the mission was, "Faith, Hope, and Love." Those that attended enjoyed the mission and appreciated this special gift of the presence of our bishop.
Eucharistic Exposition was begun in our Christ Child Chapel on Friday, June 1, 2012. Parishioners lovingly signed up to spend an hour before the Blessed Sacrament from Friday morning to Saturday morning. On Thursday, October 18, 2012 Exposition was extended to from Thursday morning to Saturday afternoon. The Corpus Verum Pious Association was established to promote Adoration of the Blessed Sacrament. Those desirous to support the works of the association were encouraged to participate on three levels: as an Association member, as a weekly adorer, or a home adorer.