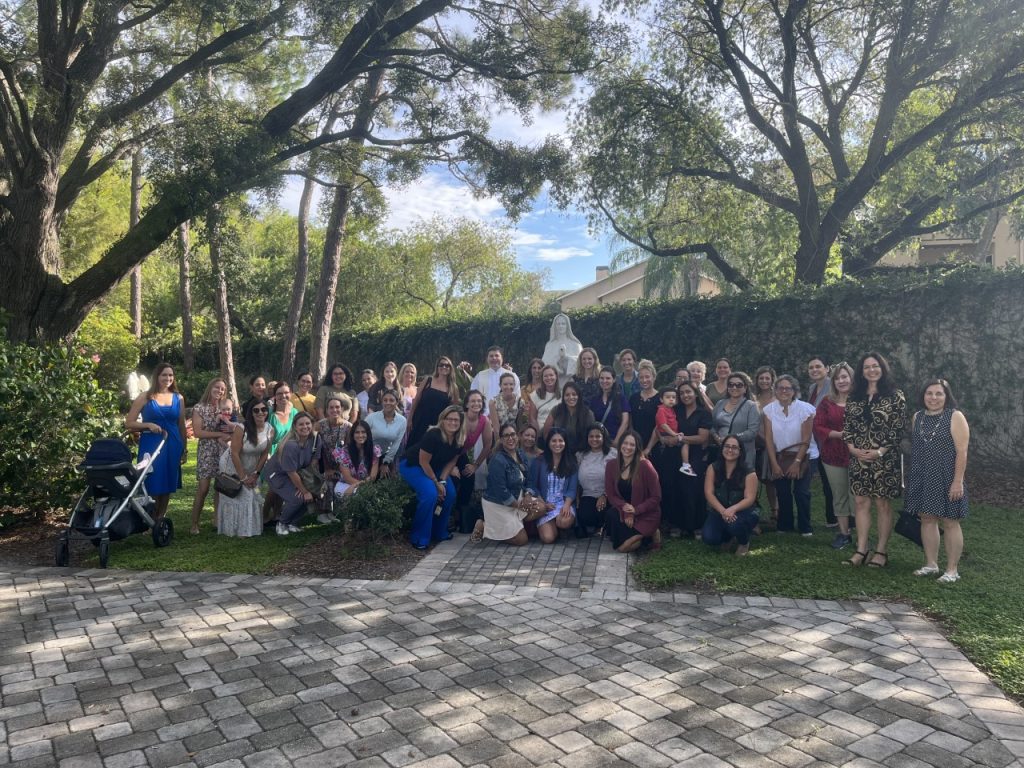 Description: The purpose of the Mothers' Prayer Group (MPG) is to provide an opportunity for women to grow in their faith so that they may fulfill their vocation to motherhood. This includes learning and practicing the many rich traditions of the Catholic faith, as well as growing through service, guest speakers, scripture study, and fun fellowship. Prayer is an integral part of each meeting.
Membership: Mothers and spiritual mothers from any parish or school are invited to attend. The only requirement is that women have a desire to learn the Catholic faith, read scripture, pray, and find fellowship with other Christian women.
Time Commitment: Ladies are encouraged to come to our gatherings each Wednesday during the school year, but they do not have to commit to attending all meetings. Moms may come and go based on their schedules and needs.
Ministry Activities: Mothers' Prayer Group offers members the opportunity to participate in the following: Sunday Gospel reading and discussion, service projects, guest speaker presentations, Saint studies, Adoration, fellowship, faith formation, and prayer.
Meeting Frequency & Location: First Wednesday of the Month- Traditional Meeting 9:30 -11:00 a.m. in St. Augustine Room of Higgins Hall (Babysitting provided).
Other Wednesdays of the Month- Mini Meetings 7:55-8:25 a.m. in the St. Augustine Room of Higgins Hall (Children welcome as play area available). Room will open at 7:30 a.m. for moms to gather.
Childcare: Free babysitting services are available by request in the Glendalough Room of Higgins Hall. Please let us know by the Sunday before the meeting so we can make arrangements to have adequate staffing available.
Download the letter below to review updates made to the MPG calendar:
Questions or need more information?
Please contact mothers.prayer.group.stl@gmail.com