Director of Music – Philip Jakob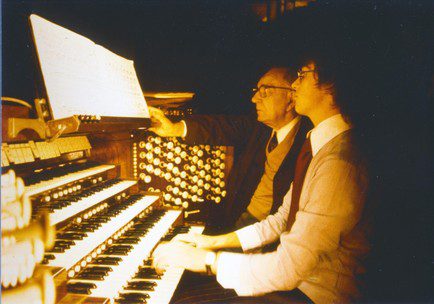 Born in 1958, Philip Jakob spent the first 14 years after graduation from Hull University as a High School music teacher in North London and briefly in Manchester. He also combined these responsibilities with a variety of organist/choirmaster posts in the Catholic Church, touring Europe as organ accompanist and soloist. In his 20s he played at the cathedrals of Paris, Soissons, Chartres, Rheims, Laon, Rouen, Beauvais (France) and the major churches of Paris including St Severin, St Clotilde, St Sulpice, Sacre Coeur, and La Madelaine. His teacher was the virtuoso Stephen Hicks, a pupil of Nadia Boulanger, Marcel Dupre and Andre Marchal.
Employment
| | |
| --- | --- |
| Assistant Director of Music, St Ignatius College, Enfield, Middlesex | 1981-1985 |
| Head of Music, St Angela's RC School for Girls, Palmers Green, London | 1985-1988 |
| Director of Music, St Ignatius College, Enfield, Middlesex | 1988-1993 |
| Director of Music, Parrs Wood High School, Didsbury, Manchester | 1993-1994 |
Church Music Positions
| | |
| --- | --- |
| Organist & Choirmaster St Agatha's, Kingston-upon-Thames | 1974-1980 |
| Organist & Director of Music, German Catholic Church, Whitechapel, London | 1981-1983 |
| Organist & Director of Music, St Edmund's, Lower Edmonton, North London | 1983-1988 |
| Organist & Director of Music, St Ignatius, Stamford Hill, North London | 1988-1993 |
| Director of Music, Cathedral and Diocese of Hallam, Sheffield | 1994-2014 |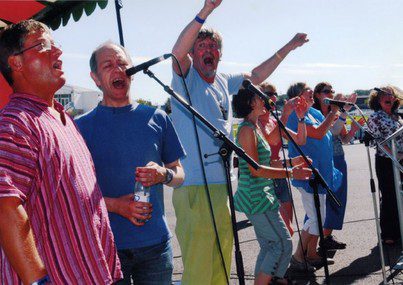 During 1994-2014 Philip was Director of Music for the Cathedral and Diocese of Hallam. He presented the cathedral as a model for the diocese with music for the congregation at the core of his activity. His choice of music reflected this focus as did also his work in the schools and churches of the diocese and elsewhere. He was active both nationally and locally in the ecumenical, interfaith and justice & peace environments. He is a published composer of liturgical music and a member of the St Thomas More Group of composers.
Philip has been in wide demand as a liturgical animator at conferences across the United Kingdom and Spain and has worked on numerous occasions with John Bell and the Wild Goose Resource Group. Philip is a Member of the Iona Community.
Left to right the applicants for the 'Best Dressed Singer of the Year' competition are Philip Jakob, Graham Maule, John Bell, Carol Whyte, Jo Love, Alison Adam, and Jane Bentley.
In 2014 consequent to financial strains following the restoration of the Cathedral the post of Director of Music for the Diocese and Cathedral of Hallam was declared redundant. He directed the music there for the last time on Easter Sunday 2014.
In June 2014 he was appointed Director of Music in St Lawrence Catholic Church, Tampa, Florida, USA, taking up the post in September 2014.
In November 2015 Philip was invited to give a series of workshops and lectures at the University of Huron, St John's Church and St Aidan's Church in London, Canada.
In January 2017 Philip accepted an invitation to join the Liturgical Composers Forum's conference in St Louis, MO.
In December 2018 Philip was invited by the Diocese of St Petersburg to address the Advent Gathering of diocesan Faith Formation Leaders. In a blend of sung and spoken word his talk spoke of the prophetic witness which our common baptism requires.