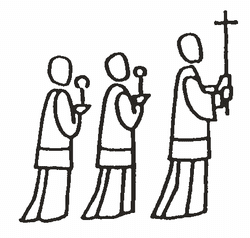 Description: As members of the faith-filled community of Saint Lawrence the Altar Servers answer the call to service that we all receive. Annually, the servers as a group log over 600 hours of community service and demonstrate what it means to be good stewards of our Father and His Church. The members of the Ministry of Altar Servers assist in the celebration of the sacred liturgy through the sharing of their talents and contribute to the spirit of prayer through the reverent way they perform their tasks. Service to the parish community is a way to live out the life Jesus promised us in the sacrament of baptism.
Requirements: The Ministry of Altar Servers is open to boys and girls that meet ALL of the following requirements:
Are in 3rd grade or higher
They have received the Sacraments of Baptism and First Holy Communion in the Roman Catholic Church.
They fully understand the importance of this ministry and are committed to it.
They have attended a training session to learn the duties and responsibilities during Mass.
They agree to serve all Masses scheduled and find a qualified substitute when needed.
They agree to attend ALL meetings scheduled throughout the year.
Time Commitment: Three to four Masses per two-month period with occasional additional Masses as a substitute. Mass time preferences and date exceptions are taken into consideration when creating the schedule, to allow flexibility for the families in the ministry. Training sessions are scheduled in the Fall. Additional practices may be required throughout the year. Altar Server Appreciation event is held in early Spring.
Contact us for more information about Altar Servers: