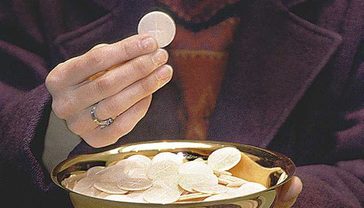 Description: While the heart of the celebration of Mass is the Eucharistic Prayer, the consummation of the liturgy is found in Holy Communion. In the gathering, in the breaking of the bread, in the eating and the drinking, the faithful are joined together as members of Christ's mystical Body, sharing the one life of the Spirit. In the great sacrament of the altar, they are joined to Christ Jesus and to one another. It is not surprising then, that in order to promote fuller participation in the Holy Eucharist, the Second Vatican Council called for the faithful present at each Mass to communicate not only by spiritual desire but also by sacramental Communion. If a large number of the faithful are present, the presider will frequently need assistance in distributing Communion so that the Communion Rite is not unduly long. He will regularly need this assistance when Communion is given under both kinds, the form of Communion that more clearly signifies the Eucharistic banquet.
To that end, deacons and concelebrating priests assist as ordinary ministers of Communion. Instituted acolytes, where they are available, can assist as auxiliary ministers. However, Extraordinary Ministers of Holy Communion (EMHC), either formally commissioned for a given period or temporarily deputed by the presider, will frequently give this assistance.
Time Commitment: Approximately one Sunday per month, or more frequently if desired.
Meeting Frequency & Locations: EMHC's might meet several times per year for spiritual renewal and for updated training, to better fulfill their role at Mass.
Contact us for more information about our EMHC: MMedoff@stlawrence.org