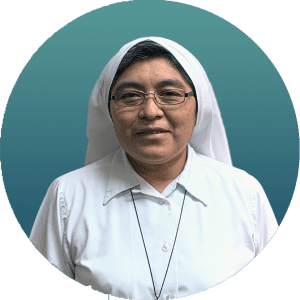 Sister Sabina Chimal
She is a member of the Sisters of the Religious Institute of the Missionary Daughters of the Blessed Mother of Light— "Misioneras Hijas de la Madre Santisima de la Luz." The order received Pontifical Approval November 1st , 1988 in Rome Italy by S.S. John Paul II. The institute's member's Charisma is the Evangelization and Catechesis especially in places where is needed.
Sister Sabina was born in Valladolid, Mexico, she arrived at the Institute in the Archdiocese of Yucatan in August, 1996, made her temporary vows in December, 1998 and made her perpetual vows January, 2005. She shares that by the grace of God, our Missionary Institute is present here at St. Lawrence. She is hoping to respond to the needs of our community for Evangelization and Catechesis.