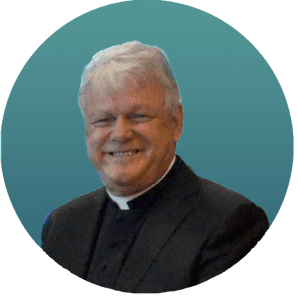 Monsignor Michael Carruthers
Monsignor Michael Carruthers was born May 6, 1964 in Manhasset, New York. He moved to South Florida with his family in 1973. He was a member of St. Martin de Porres Parish in Jensen Beach and attended public schools, graduating from Martin County Senior High and Indian River Community College. In 1984, he entered St. John Vianney College Seminary in Miami, and completed his studies for the priesthood at St. Vincent de Paul Regional Seminary in Boynton Beach. He was ordained for the Archdiocese of Miami May 11, 1991. He served as parochial vicar at Epiphany Parish, South Miami, before being named priest-secretary to Miami's second and third archbishops: first, Archbishop Edward McCarthy, and then, Archbishop Emeritus John C. Favalora. Msgr. Carruthers then served as parochial vicar at Immaculate Conception Church in Hialeah, where he resided while obtaining a master's degree in exceptional student education from Florida International University, with a specialization in autism.
In 2005, he was named rector of St. John Vianney College Seminary in Miami. Five years later, in August 2010, he was named pastor of St. Augustine Church and Catholic Student Center in Coral Gables. He was given the honorary title of Monsignor by Pope Benedict XVI in March 2008. In July 1, 2019, he began serving as parochial administrator of Resurrection. He will be incardinated as a priest of the Diocese of St Petersburg on July 1, 2021 and installed as pastor of St. Lawrence Catholic Church on the same day.
"Trust Him when dark doubts assail thee; trust Him when trust is small. Trust Him when simply to trust Him is the hardest thing of all." -Archbishop Fulton J. Sheen