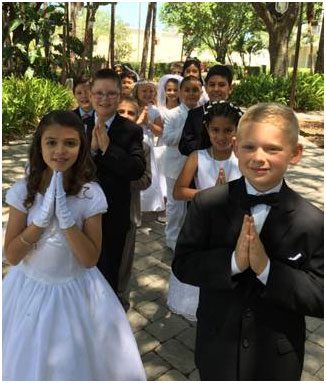 "Jesus said to them, "I am the bread of life; whoever comes to me will never hunger, and whoever believes in me will never thirst." –John 6:35
The Eucharist is the sacrament where we receive Jesus' body and blood.  First Communion is typically a two-year preparation process that begins with the child participating in pre-Communion preparation in first grade through ongoing formation received either in Catholic school, Youth Faith Formation (Sunday school), or a registered homeschooling program.  Once in second grade (or older), the family will also participate in direct Communion and Penance preparation sessions throughout the year, culminating with First Communion in May.

Do you have an older child that for whatever reason hasn't had the opportunity to receive First Communion yet?  Let us know!  For a child in 2nd-9th grade, contact contact@stlawrence.org if in 10th or higher, contact Luisa Long.
---
---
Livestream of First Communion Masses
You can view current and past livestreamed First Communion Masses from 2020 by following the link below: