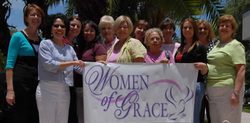 Description: Women of Grace® seeks to transform the world, one woman, at a time by affirming women in their dignity and vocation as daughters of God and in their gift of the true and essential nature, God has endowed to woman referred to by Saint John Paul II as the feminine genius, authentic femininity™.
Time Commitment: The study group typically meets once a week for 9 weeks.
Meeting Frequency & Location: During the study program, we meet weekly for 9 weeks, usually in Higgins Hall.
Contact us about Women of Grace: