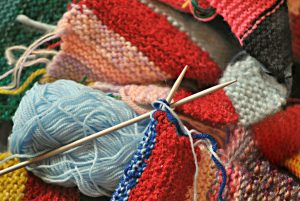 Description: The goal of our ministry in the life of St. Lawrence parish is manifold. We are a group of parishioners and non-parishioners that come together most Wednesday mornings and grow in fellowship and community. Through our fellowship, we create knitted and crochet articles of clothing that we donate to those most in need. For example, we create small pieces of clothing, shawls, blankets, and blankets that we give to hospitals for all size babies, cancer patients at Moffit Cancer Center and projects for our elderly and homebound community. We also do some projects during the year to support the St. Lawrence children who are preparing for First Reconciliation and First Communion.
Participation: We have two fundraisers a year to raise money for yarn and material. Monetary donations are accepted by parishioners, family, and friends.
We grow in fellowship with one another through friendship and service!
We meet most Wednesdays around 9am until about 12 noon in the Glendalough room and Library of Higgins Hall.
Contact us about Stitchers in Service: