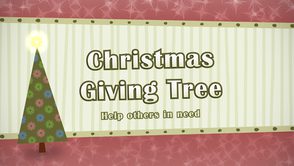 Description:  The Giving Tree gives the parishioners an opportunity to bring in items to help different organizations in need.  We donate items collected to the following organizations: Matthew 25 Outreach Ministry, Catholic Charities Crisis Pregnancy Center, the migrants in Plant city, retired religious, shut-ins from our parish.
Requirements: A willingness to help sort items and get them to the various organizations
Time Commitment:  Varies depending on the number of items donated and what you are willing to do. The giving tree is up from mid-November until just before Christmas.
Contact us about the Christmas Giving Tree: