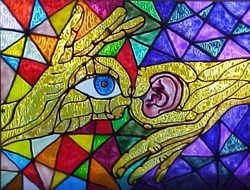 Description: The purpose of our ministry is to provide interpreting services to the Deaf and Hard of Hearing. We attend weekly services and provide the Deaf community access to all parts of the Mass.
Membership: This ministry does not require members to be fluent, but needs members to have some knowledge of Sign Language. Interpreting degrees are not necessary, and we are willing to help any person brush up on their sign language skills.
Time Commitment:  Members will need to be able to interpret for the 11:00 am or 7:00 pm mass at least one (1) Sunday per month.
Contact us for more information about Sign Language Interpreting: