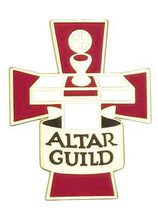 Description: Our ministry launders and irons all the linens that are used for the Liturgical Services. In addition, we launder the albs used by the priests and deacons. We have a team that picks up twice a week, Monday and Friday. A schedule is made that covers a three month period so that everyone is able to plan their time.
Membership Requirements: The only requirement is being able and willing to wash and iron and pick up and return on the assigned days (the return day assigned being extremely important so that we never run out of linen).
Time Commitment: Ironing time is approximately 2-3 hours but can be done in stages. Times scheduled are usually once or twice a month, but can vary, i.e. the more members the less time.
Meeting Frequency & Location: Typically none. We have an informational meeting for any new members at the church, as well as printed guidelines for pickups and laundering. Most of the information can be done by phone or e-mail.
Contact us for more information about Altar Guild: