Description: Our High School Life Teen Youth Ministry at St. Lawrence is focused on leading our teens closer to Christ. At Life Teen we combine faith, fun and friendship in a way that is different than religion class. In this environment the teens can be honest and ask tough questions about their faith without feeling insecure. We are all here to learn more about our faith, grow closer to God while still having a fun time!
When we meet
Weekly on Sundays from 4:30pm-6:30pm in the youth room (in Polly Murray ECC building along Hillsborough Ave.)
Click to Enlarge image and start slideshow
Special Events
Sprint Retreat 2019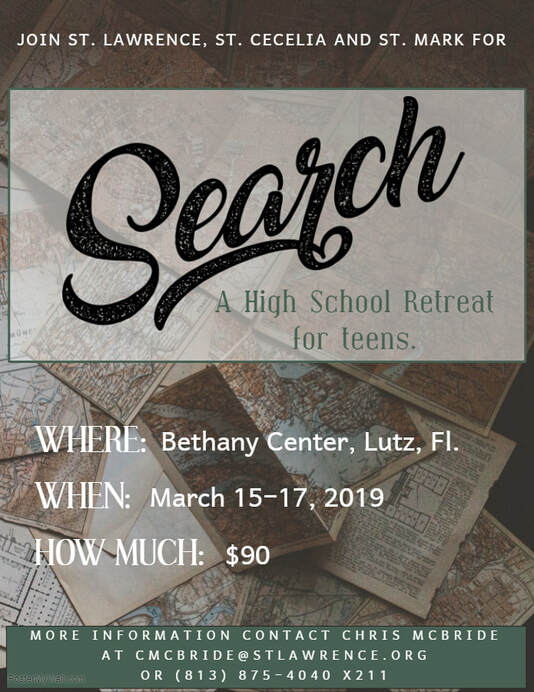 When: March 15-17, 2019
Where: Bethany Center
Cost: $90
Highlights – Great food, Fun Games, Relevant talks and discussions, opportunity for Confession, Mass, time to pray & chill!
To sign up you just need to fill out some paperwork (download retreat packet here) and turn it into the office or by scan/email along with $90 check (or pay online) which covers food, lodging, and the activities for the weekend. To pay online all you need to do is log in to your online giving account or choose "quick give" using the following link – Online Pay
When giving, please be sure to choose the fund "LifeTeen2019" 
Please note early registration ends on Wed. Feb. 27th! After that, the price goes up to $115
We are Listening!

Please share your thoughts on what is going well in youth ministry and how we can grow in serving the youth of our community!
English Survey (https://goo.gl/forms/8BqHruMwmfuXTL6k1)
Spanish Survey (https://goo.gl/forms/ZGd5aZ2KfhbLp0pN2)
---
Instagram Feed
---
Sign up for updates!
Get updates from St. Lawrence Catholic Church & School in your inbox.
Need Constant Contact Form here.
---
For more information, please contact:

Chris McBride
Phone: (813) 875-4040 x211
Email