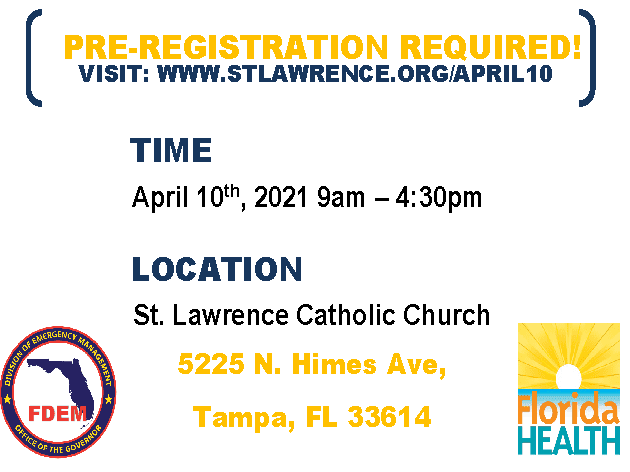 This event is provided by FDEM and Florida Health and will be hosted here at St. Lawrence Catholic Church on April 10th, 2021.
Registration is required! Please sign up for one of the time slots via the link below.
Those eligible for vaccinations at this event are listed as following according to FDEM.
those 18 years of age and older,  
healthcare workers with direct patient contact, including caregivers 
firefighters aged 50 and older, 
sworn law enforcement officers aged 50 and older, 
K-12 employees aged 50 and older, including dual enrollment faculty. 
Those seeking vaccines should bring ID to confirm their age, and/or documentation to prove their eligibility.  Please bring your completed consent form, which can be downloaded here.
The vaccine administered will be either Moderna or Pzfizer.
Sign-ups for this event are now closed. We are grateful to be fully booked!
Important: If you receive your first vaccination on April 10th, you are guaranteed a second dose on Saturday, May 8th in the same time slot.